Rohr, Inc
Riverside, California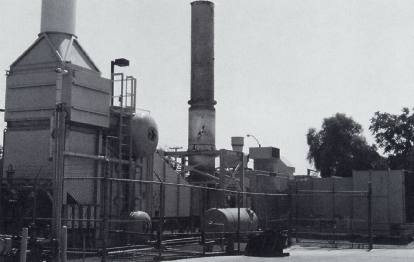 Plant Description: Rohr Inc. is a California based manufacturer of aircraft and and rocket parts for the commercial and military aerospace industries. The Rohr plant in Riverside, California employ a staff of 11,000 and includes 1,182,000 square feet of manufacturing space on 76 acres adjacent to the Riverside Municipal Airport.
Electric loads at the Rohr Riverside facility range from 4 to 9 MW. Electric requirements in excess of the cogeneration system output are purchased from the City of Riverside municipal electric utility. Steam requirements vary from 10,000 to 40,000 lbs/hr.
Currently decommissioned, Rohr owned and managed the natural gas fired 3.5 MW cogeneration facility which served the Riverside plant with baseload requirements for electricity and steam. Built in 1985 by University Energy of San Diego, the plant consisted of a genset, a bypass stack, an ABCO heat recovery steam generator, and controls. The genset was powered by an Allison 501-KB5 gas turbine equipped with water injection to control NOx emissions. The system ran approximately 6,000 hours a year. It was shut down on weekends by agreement with the City of Riverside municipal utility.
IPT Services Provided: IPT was awarded a contract in 1993 under which IPT provided complete operation and maintenance services to the plant. IPT hired and trained all plant staff. Operating and field service technicians from IPT's other sites supplemented the staff for shift relief and emergency maintenance help.
IPT provided additional technical, engineering, and management services as requested by Rohr. IPT was responsible for turbine upgrades, emissions retrofit, maintenance and turbine overhaul management.