Equipment For Sale
IPT Cheng Cycle Plant for Sale –  

SOLD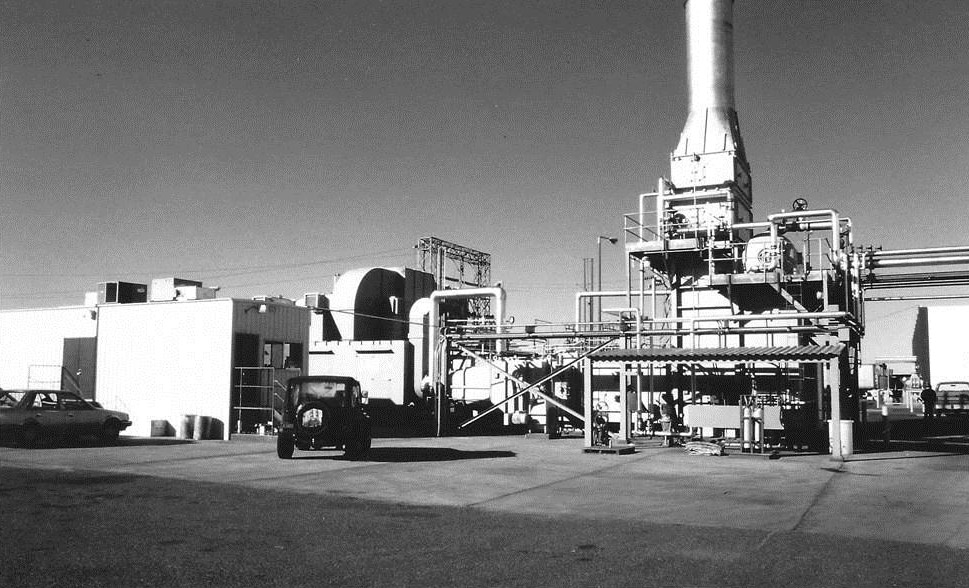 Project Description:  For sale is Cheng Cycle power plant that IPT designed, developed, and constructed in 1986.  The project is located in Northern California (San Francisco Bay Area), and is available for inspection.  The power plant is for sale in its entirety, or individual parts and equipment can be purchased separately.  All of the components and equipment that can be seen in the photos (see link below) are for sale.  The equipment consists of a 6 MW Allison 501-KH superheated steam injection gas turbine generator package, which is matched with a specially configured 60 klb/hr ABCO saturated steam, 250 psig MAWP waste heat recovery system generating unit.  A 44 mmbtu/hr COEN duct burner provides the heat source for an additional 40 klb/hr steam above and beyond the steam available from the gas turbine exhaust.  The balance of plant systems include: 1500 psi Joy reciprocating gas compressor, RO water treatment and pumps, electrical distribution, Bailey distributed controls, control room, generator breaker protection and synchronization.  The plant was fully operational until it was shut down in January 2012 and has approximately 66,162 hours of operation since startup.  Available plant spare parts, documentation, and blueprints are included in the sale.
Gearbox: Westech model 12510, 14600/1800, parallel shaft.
Generator: Ideal, 6200 kW, 7750 kVa, 4160 volts, 1800 rpm, 80 Deg C rise, class F insulation, 60 hz.
Pricing:  Make Offer – All equipment is for sale as-is-where-is with no warranty.
Click here for equipment photos.
Former UC Davis 3.5 MW Power Plant Equipment –  

SOLD
IPT is currently offering for sale selected decommissioned equipment as described in the UC Davis – Facilities O&M Cogeneration Plant Bid Package dated October 2007.The following equipment remains available for sale:- Western model 250 HSA 100s gearbox- Kato generator

– ERI Nebraska 20,000 lb per hour HRSG

– Inlet air system.

The equipment was removed from the UC Davis site in 2008 and is currently being stored in Menlo Park, California.  The equipment is being offered "as-is, where-is" on a first-come, first-served basis by individual components.  Any reasonable offer will be considered.

Click here for equipment photos.
Former Black Hills Ontario 11.2 MW Power Plant Equipment –  

SOLD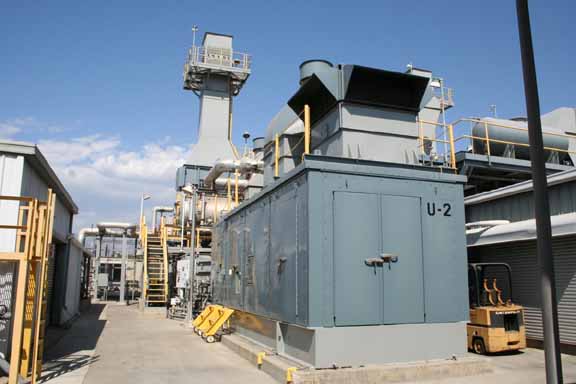 IPT has recently acquired the two unit Ontario, California Cheng Cycle Cogeneration plant and is in the process of selling the plant as a whole or in part.  IPT developed the Ontario Cogeneration, Inc. project (OCI) in 1984 and operated the project for 14 years.  It was subsequently sold twice and was shut down in April 2008 due to the loss of its power and steam host.  All components were preserved at that time, and the plant is still manned by the plant manager.IPT has all the documentation for the plant, including blueprints, operations manuals and maintenance records.All parts and systems are available for sale, and include two gas turbines, one gearbox, two generators and all of the heat recovery equipment and components.  Firm offers will be accepted, and there is a reserve price.  Some components are in the process of being sold and the plant is in the early stages of demolition.  All sales are on an "as-is, where-is" basis.

Contact Information for Interested Buyers
Interested buyers can submit questions or purchase proposals, or schedule a visual inspection of the equipment by contacting:
International Power Technology
Attn: Randy Turley
1042 W. Hedding, Suite 100
San Jose, CA 95126
(408) 246-9040 : office phone
(415) 838-1365 : cell
(408) 246-9036 : fax